For all the food lovers out there, if you're craving comfort and rich dishes infused with flavor, you must try Biryani at The Curry Indian Restaurant. Biryani is a traditional dish made with fragrant Basmati rice, different types of meat or vegetables, a blend of exotic spices, and nuts. Biryani bowls are a celebratory indulgence and a delicious mix of aroma and texture that'll please your taste buds.
At The Curry Indian Restaurant, we strive to bring the best of India's delicacies to your plate. Our Classic Biryanis are no exception, making them an essential part of our diverse menu. Its flavorful basmati rice, marinated meat, and secret spices make it a dish you can savor with family and friends.
The Curry Indian Restaurant is known for its culinary artistry and gourmet offerings, and we create the most authentic Biryanis in Huntsville, Alabama. Let us cook dinner for you tonight! Come over or order online or call 256-517-8017.
What is Biryani?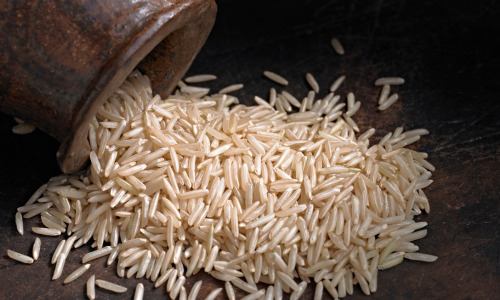 Biryani originated in Persia. When it was brought over to India, it grew in popularity during the Mughal Empire. It was a specialty among royal kitchens and gradually made its way into common households. It is a dish that has evolved over hundreds of years and has regional variations in India. This delectable dish is now an integral part of Indian cuisine and has traveled around the world, delighting food enthusiasts globally.
Traditional biryani features marinated meat cooked with long-grain basmati rice and a combination of spices, herbs, and vegetables. Flavor in all Indian cuisine is from the unique range of spices. Biryani is typically made of a mixture of spices from saffron, cinnamon, cardamom, cumin, cloves, and other additions dependent on the cook's creative spin. The basmati rice is cooked separately and then layered with meat and spices, creating a unique fusion of flavors.
Biryani is found in every region of India, and it goes by different names and variations. However, at The Curry Indian Restaurant, we have perfected the recipe to our style with our unique blend of flavors. The dish is satisfyingly filling, and you'll want to try all of our offerings. We make veggies, chicken, shrimp, and goats. Our goal is to make food for our guests to nourish their bodies and inspire their taste buds. The Curry Biryani Bowls do both.
Health Benefits of Biryanis
Apart from its delicious taste, biryani has some significant health benefits. It is loaded with protein from meat or vegetables and contains antioxidants from spices. Basmati rice used in biryani is a low-fat and high-fiber option offering better nutritional benefits than regular white rice. The dish is also rich in flavor, which means smaller portions can be incredibly satisfying for those looking to watch their calorie intake.
Biryani is packed with antioxidants from various spices used in its preparation. Turmeric, for example, is often used to give biryani its rich yellow color and has been shown to have anti-inflammatory properties. Cumin, another commonly used spice, has been linked to improved digestion and may even help manage blood sugar levels. In a biryani bowl, with its combination of spices, you get a powerful punch of nutrients with every bite!
The Curry Indian Restaurant only provides the best ingredients for our guests. Fuel your body and mind with a biryani, order today.
Biryani From The Curry Like No Other
The Curry Indian Restaurant prides itself on using only the freshest and highest quality ingredients to make its signature Biryanis. Our chef blends diverse spices together to bring out the unique aroma and flavor profile in each bowl.
We offer a vast array of Biryani options to cater to any protein preference or spice tolerance level. Our classic Chicken Biryani and Goat Biryani are crowd-pleasing favorites. For vegetarians, we offer a delicious Vegetable Biryani made with a mix of flavorful veggies. If you're craving seafood, we also offer a Shrimp Biryani!
Secret Spices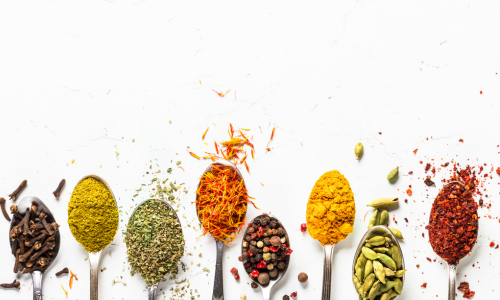 Biryani is a dish that relies on spices for its depth of flavors and sentiment. This dish is typically made with Basmati rice, meat, and a variety of spices. Preparing biryani can vary greatly depending on the region. At the Curry Indian Restaurant, we take this aspect seriously. Our chefs create their blend of spices, which enhances the flavors of the dish. Our spice mix includes cumin, coriander, cinnamon, and cardamom, among others. These spices are carefully selected and blended by our expert chefs to create a unique flavor profile that you won't find anywhere else.
Of course, the beauty of biryani is that it can be customized to your liking. At Curry Indian Restaurant, we offer a range of biryani options, including vegetarian, chicken, goat, and shrimp. No matter which one you choose, you can be sure that the same attention to detail and care goes into each dish.
At The Curry Indian Restaurant, we believe that food is one of life's greatest pleasures. We take great care in preparing every dish on our menu. Our secret spice blend is just one example of the techniques and ingredients we use to create unforgettable dining experiences for our customers. Treat yourself to one of our acclaimed dishes.
How We Cook the Basmati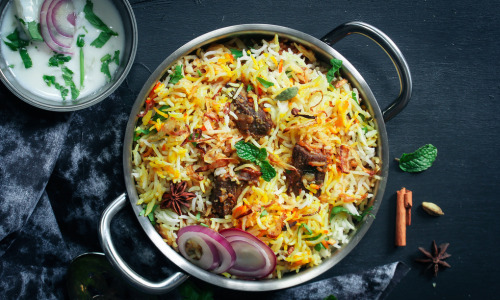 The basmati rice is cooked separately and infused with aromatic spices like cardamom, cumin, cinnamon, and bay leaves. We use a secret blend of spices to flavor the meat or vegetables included in the biryanis. Then we seal the pot and cook it slowly over a low flame, allowing the flavors to blend together. The result is a rich and flavorful biryani bowl with tender meat, fluffy rice, and a range of textures.
Biryani is a delicacy worldwide, but our restaurant has elevated it by incorporating the local flavors of Indian cuisine. Our Biryani Bowls contain cashews and fried onions, which provide a unique crunch and flavor to the dish. It's a feast for the senses, a perfect mix of sweet, spicy, savory, and nutty. Each bite is a delight.
At The Curry Indian Restaurant, we believe the secret to our flavorful biryani bowls lies in the attention to detail involved in the cooking process. Our chefs use a practiced technique inspired by their culture to make a well-cared-for dish for your enjoyment. In each flavorful bite, you will also taste the care we put into all our dishes.
Delivery and Takeaway Options
Come and visit us in Huntsville, Alabama, for a home-cooked meal. Our lunch buffet is open on the weekdays for $15.50, and our weekend brunch is $16.50. A-la-carte ordering is also available. If you have a busy schedule and can't make it to the restaurant for our lunch buffet or dinner, don't worry; we offer delivery or pick-up.
We can provide you with the convenience of enjoying your favorite Classic Biryanis at home. Our online ordering system is easy to use, or you can also call us at 256-517-8017 to order.
Order The Curry
Biryani is a dish that sparks joy in every bite. The Curry Indian Restaurant's mastery of the delicacy elevates the experience to a whole new level. Our team's dedication to using fresh and quality ingredients, along with our expertly crafted spice blends, will leave your taste buds happy.
The Curry Indian Restaurant in Huntsville, Alabama, makes authentic biryani bowls that are a must-try for anyone who loves food. Our classic dishes and customized options cater to every taste bud, and our quality ingredients and expert preparation make for an unforgettable culinary experience. Let us cook you dinner today, come visit us or call us at 256-517-8017. We look forward to serving you a delicious and comforting meal.